Tots Tennis for 3 and 4 Year Olds
Tots Tennis
Looking for your 3 and 4 year olds to get into sport?  This new idea is getting increasingly more popular around the country, so come join us! Also, this fun session helps your child to develop great social skills, interacting and playing with other children their age.
Its a great way for your child to be introduced to learn: Movement, Ball skills, Agility and Balance
Tots  Sessions
We run 5 sessions every week for pre-school children.  You can book onto these courses with the booking form below. The sessions are:
Monday:  13.45 – 14.15
Tuesday: 15.45 – 16.15
Thursday: 13.45 – 14.15
Saturday: 10.00 – 10:30 and 10:30 – 11.00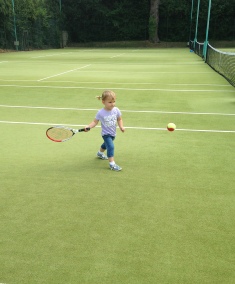 Easter and Summer Holiday Tots Pay 'n' Play sessions
During the Easter and summer holidays we will be running Pay 'n' Play tots classes.  No commitment is needed, just turn up when you can. New tots are welcome!
Each class is £4, payable on the day.  Please note that the class times are different to term times:
Easter Holidays
Thursday 5th and 12th April 15:15 – 15:45
Summer Holidays
Saturday's 10.00- 10:30 (first session 14th July)
Bookings for new tots will be accepted one month prior to the course commencing. This is to allow existing tots to re-book. If the course you wish to join is full then you will be placed on a waiting list. You may place your child's name on a waiting list at any time and will be contacted as soon as a space becomes available.
Weekday tots sessions are limited to 6 places so the hall can be used in the event of rain, and to offer a low coach to tot ratio. Saturday sessions will be limited to 10 places and will be run by 2 coaches.
Join Our Tots Mailing List